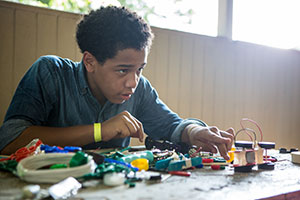 Program Guides
Hands-on Activities
Activity Guides
Virtual Programs
4-H Trivia Virtual Escape Room
You can complete this escape room as a family, individual, or against friends!
This escape room was created by Tanya Patrie, 4-H Program Assistant of Sussex County, and Michelle Teitsma, 4-H Program Associate of Warren County, New Jersey. Photo credits to Tanya Patrie and National 4-H Council.
Videos
Kitchen Science - How About Them Apples

(YouTube link)

, Virginia Krzyzanowski, Monmouth County 4-H Program Associate
Staying Healthy and Safe When Visiting Farms During Covid-19

(YouTube link)

, Monmouth County 4-H Agent
Educational Resources
Blogs
Nature Blog
Nature Inspired offers encouraging stories of ecology and nature, ranging from the biodiversity in your backyard right here in New Jersey to the whole planet and ends with action-steps we can take to leave it healthy and balanced for future generations!
Additional Resources
Rutgers Earth Day at Home Webinar Series
In celebration of the 50th anniversary of Earth Day, Rutgers Cooperative Extension announces its webinar series "Earth Day at Home". This series will focus on steps everyone can take to protect the environment. We can all do our part to take actions that make our homes more sustainable, from environmentally friendly lawn care, to composting, to reducing plastic waste. These actions, more than ever, start at home.
Details
Join us on Mondays, starting April 20th, at 6:30pm to learn from experts at Rutgers Cooperative Extension. These live, interactive sessions will be 1 hour. To join in you need either a computer, tablet, or smartphone with speakers. Every week we will cover small actions that together reduce negative impacts on the environment.
To register, or for more info visit envirostewards.rutgers.edu/EarthDayatHome2020.
Other Resources
To find out more about NJ 4-H STEM programs check out:
To find out more about NJ 4-H Healthy Living programs check out NJ 4-H Healthy Living.
To find out more about NJ 4-H Civic Engagement/Service programs check out - NJ 4-H Civic Engagement/Service Webpages.