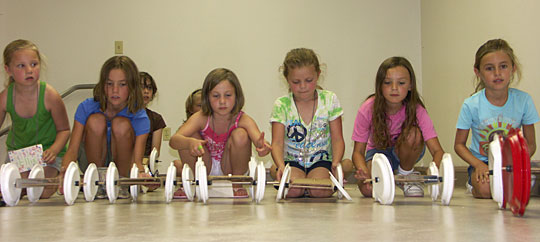 4‑H can be a valuable experience for youth of many ages. In New Jersey, the earliest 4‑H club experience is belonging to a 4‑H Cloverbud Club (children in grades K–3). The purpose of the New Jersey 4‑H Cloverbud Program is to provide a fun and educational experience which helps children to:
Learn to get along with others.
Explore a variety of interests through hands-on activities.
Build self-confidence through healthy experiences.
The 4‑H Cloverbud Program is designed to introduce boys and girls in grades K–3 to a wide variety of 4‑H project experiences - from cooking to community service and small animal to science experiments.
4‑H Cloverbud clubs are similar to standard clubs because they meet regularly and are led by adult volunteer club leaders. Most clubs have approximately five to eight members per leader and meet about twice a month. 4‑H Cloverbud clubs are different from standard clubs because 4-H Cloverbud members do not select one or two specific projects to work on during the year. Instead, they participate in a variety of short-term activities in many different subject areas.