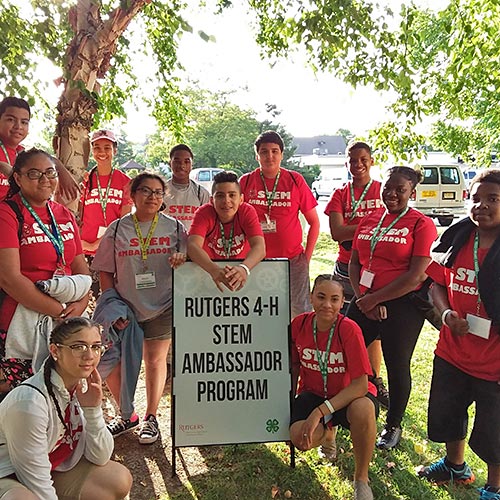 The Rutgers 4‑H STEM Ambassador Program is an excellent opportunity for teens to learn about STEM, develop as a leader in their community, and prepare for college. Apply by April 10!
+

Who is Eligible?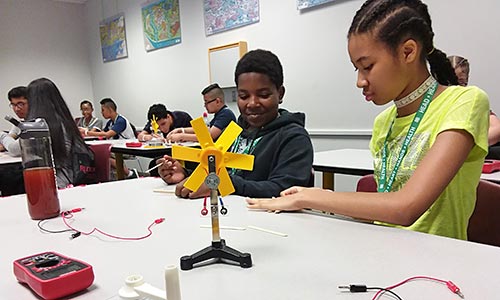 The program is for college-bound youth entering 8–10th grade in the fall of 2023,
from the urban communities of Atlantic, Essex, Hudson, Mercer, Middlesex, Passaic, and Union counties (youth from each of these counties will be selected to participate),
with a strong interest in STEM and college—GPA of "B" or better, top 25% of class,
interested in volunteering in their local community to assist 4‑H with STEM programs for other youth—in afterschool, Saturday, or summer programs.
+

Participants Will...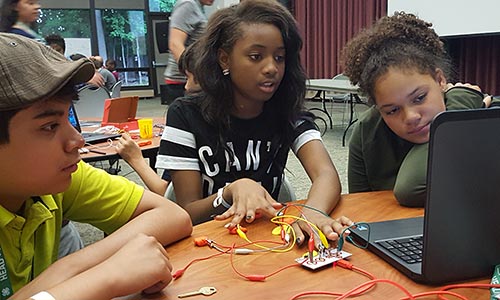 Gain valuable skills from a year-round, multi-year STEM enrichment program.
Meet Rutgers scientists and engineers (professors, staff, and graduate students).
Participate in research projects, lab tours, workshops, and field trips.
Take part in leadership and personal development activities.
Lead STEM activities for other youth.
Experience Rutgers through virtual and in person programs.
Get to know like-minded students from across the state.
+

Application Process & Summer Program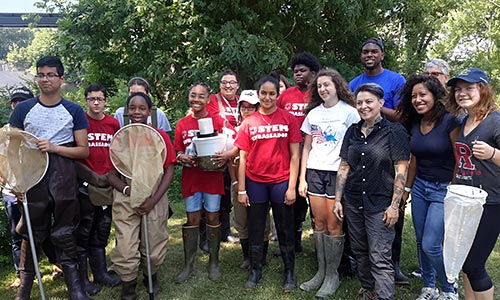 Approximately sixty (60) talented and motivated rising 8–10th graders (7–9th graders at time of application) from the abovementioned counties will be accepted into this year's new cohort of Rutgers 4‑H STEM Ambassadors, with all direct summer program expenses paid by a generous scholarship (valued at $500). Those selected will begin the year-round program with a brief orientation in May and:
Complete two short online modules (asynchronous, self paced) to learn about Rutgers, 4‑H, STEM, and what it means to be a Rutgers 4‑H STEM Ambassador (May and June).
Participate in STEM program at Rutgers–New Brunswick, July 10–14. Meet Rutgers scientists and engineers, explore campus life, conduct research, and train to serve as a STEM Ambassador.
Attend Rutgers 4‑H STEM Ambassador monthly meetings to get know their fellow ambassadors and plan for team projects.
All STEM Ambassadors become eligible for future 4‑H events and activities within their county and on the state and national levels.
To be considered for this exciting program, all candidates must complete a short application no later than April 10!
+

Testimonials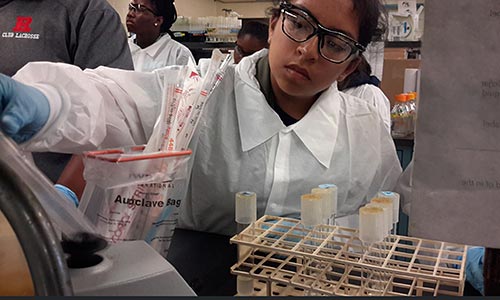 When asked about their interactions with the scientists and engineers throughout the program, our 4‑H STEM Ambassadors commented:
"My experiences have me interested in things that I never thought I would be interested in. Subjects I thought I loathed were subjects that I want to look into. This would not have been possible without the scientists I worked with." — Rutgers 4‑H STEM Ambassador
"The scientists were very helpful and clear on what they taught us, and they were fun and helped relieve some worries about college. The physics lecture was especially entertaining and enlightening." — Rutgers 4‑H STEM Ambassador
"I loved their passion for what they were teaching. The love for the subject made me very interested in that specific science." — Rutgers 4‑H STEM Ambassador
"It was very interesting to have a talk with several scientists and ask them questions about their field that they specialize in. Moreover, it seems I was able to connect and discover mutual emotions through their story." — Rutgers 4‑H STEM Ambassador
When alumni of the program were asked to reflect on their experiences as a 4‑H STEM Ambassador, here is some of what they wrote:
"In the marine biology lab, we were introduced to the robotic gliders and mapping system the marine biology team used to navigate and track the water systems all over the world. What intrigued me the most was how techonology was being used in the process of navigating those systems. That moment was what lead me to take an interest in engineering in general." — Rutgers 4‑H STEM Ambassador
"I know alumni of the program who have gone on to major in fields of medicine and science, using their experiences as a base for their career choice. I have even encouraged my underclassmen for the last two years to participate in the program, knowing how much of an enriching experience it is." — Rutgers 4‑H STEM Ambassador
"The 4-H STEM Ambassador Program truly made an impact upon my life. Just attending the programs and learning about the various aspects of science fueled my desire to go into the science field." — Rutgers 4‑H STEM Ambassador
"Because of the program's goal to have me go back to my community and spread what I learned to others around me, I was able to truly touch the lives of my community and felt I have made a difference." — Rutgers 4‑H STEM Ambassador
"It is because of this that I have begun to embark on the path for my future. In the immediate future, I intend on attending Rutgers University, while majoring in Cell Biology and Neuroscience. Not only do I plan on developing my passion for science inside the classroom, but also outside in the real world making a difference." — Rutgers 4‑H STEM Ambassador
+

For More Information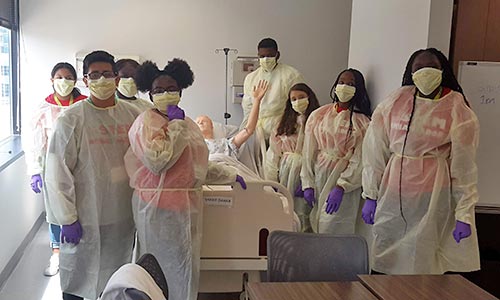 Learn more about this exciting program by viewing this three-minute documentary.
Watch this quick video from three current ambassadors, describing how they have benefitted from the program.
Email Chad Ripberger, County 4‑H Agent, with your questions.