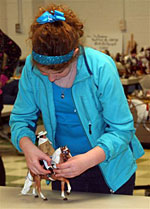 The New Jersey 4-H Model Horse Project is an educational program, entailing the collecting, photographing and showing of model horses. This sincere hobby inspires 4-H'ers to pursue perfection, authenticity and artistry. The "world of the model horse show" involves a vast equine knowledge and skill to reproduce the realism needed to portray the image of a live horse. The world of model horses is both interesting and informative. 4-H horse lovers of all ages will enjoy participating in this project. It is especially accommodating for 4-H'ers who do not have horses or for 4-H'ers who, because of health reasons, cannot physically work around live horses.
Exhibiting and photographing model horses can be a total learning experience. 4-H'ers discover the structure of the horse—anatomy and conformation; way-of-going; colors; markings; proper tack, equipment and attire; and styles of riding and showing. Numerous skills are developed in sculpting, painting, leather-work, photography, collecting and record keeping. The only limitations are your knowledge and imagination. The ultimate goal is to take the specific action of a live horse, freeze it in time and portray it in model size. Realism and correctness are the intent.
Model horse shows were started by adults in the mid-1960s, first with the "photo" show and later the "live" show. In a photo show, a picture of a model horse is assessed. The horse is photographed at halter or in a performance class. The photo is sent to a "photo show" to be judged. A "live show" is where the actual model is exhibited and judged.