NJ State 4-H Championship Horse Show
At a Glance...
August 19-21, 2022
Gloucester County DREAM Park
Logan Township, NJ
General & Entries:
Stella Almeida - 732-233-3417
Database and Entries:
Patty Burns - 856-207-9483, pattyburns@comcast.net
Stabling:
Tammy Suydam - 856-307-6450
Vendors:
Brittany Rigg - 856-224-8040, rigg@njaes.rutgers.edu
Campers:
Ken Lehberger - 609-970-3232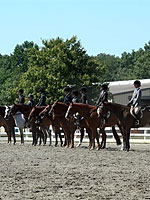 The New Jersey State 4-H Championship Horse Show is held in August of each year and 4-H'ers in grades 5 through 13 of the current 4-H year are eligible to compete. Qualifying shows are held on the county level in the spring and early summer, and the top-rated competitors in each class represent the county at the state show. Divisions at the state show include Western, English, Games, Driving, and Dressage. Other events that are held at the state show include the 4-H Youth Art Show, 4-H Drill Team Exhibition, and the Horse Costume Class. This event offers 4-H youth the opportunity to compete at an advanced level and meet other 4-H horse project members from around the state.