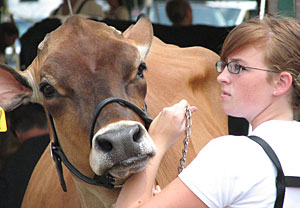 There are currently no upcoming statewide Dairy events.
Past Events
March 25, 2023
Through a quiz bowl format, 4-H'ers have an opportunity to learn about all aspects of the dairy industry and to form lasting friendships with their teammates. This invitational competition gives 4-H'ers throughout New Jersey a chance to interact somewhere other than the show ring.
April 29, 2023
Youth in the 4-H Dairy Judging Contest utilize their evaluation and public speaking skills to rank or rate individual animals and defend their ranking or placing in an oral presentation.
July 15, 2023
The NJ State 4-H Dairy Clip-Off is a hands-on learning opportunity for youth in the 4-H Dairy Cattle project area to learn how to fit their dairy cattle to be show ready.
August 15, 2023
Youth in the 4-H Dairy Cattle project learn how to care for and show dairy cattle throughout the year. At the end of the 4-H year, these individuals come together to compete in type and showmanship classes. Youth may exhibit animals they own or lease which are of any of the six Dairy Breeds.