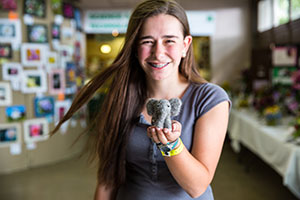 STEP Clubs are short-term exploratory programs focused on a topic (STEM, Healthy Living, etc.). STEP clubs meet multiple times over the course of several weeks. Club registration is limited and will be on a first come first serve basis. New clubs will continue to be added.
Globetasters 8: Bountiful Bakers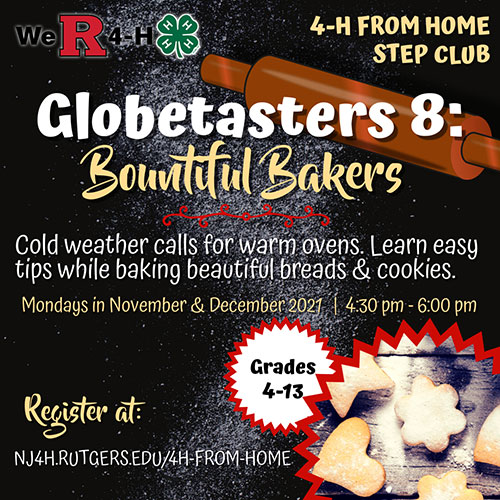 Join us for Globe Tasters 4-H Cultural Cuisine S.T.E.P. Club—Session 8. You can cook right along with us or watch and make later. This program is for youth in grades 4–12. Cold weather calls for warm ovens. Learn easy tips while baking beautiful breads and cookies. Sessions will run on Mondays, 4:30–6:00pm starting November 1st thru December.
Bountiful Bakers Registration Link
The Finer Things Book Club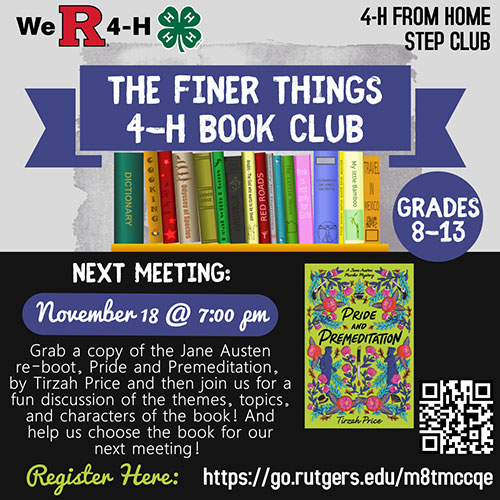 Grab a copy of the Jane Austen re-boot, Pride and Premeditation, by Tirzah Price and then join us for a fun discussion of the themes, topics, and characters of the book! And help us choose the book for our next meeting! Youth in 8–13 grade are welcome. Zoom meeting will take place on Thursday, November 18th from 7:00 pm–8:00 pm.
The Finer Things Book Club Registration Link
Data to the Rescue: Clues in the Corals
What can corals tell us about our environment? And how do scientists figure out what corals are telling us? Join a research team from Rutgers investigating deep water corals and inventing new tools – called proxies – to study them. You'll investigate coral anatomy, analyze real scientific data and get a behind-the-scenes glimpse of current Rutgers research.
Register soon for this interactive and fun 3-session virtual program! Sessions will run on Thursdays, from 4–5:15 p.m. ET, starting on October 14 through October 28. This program is designed for youth currently in grades 5–8 and attendance is limited to 30 participants.
Information and Registration Link »
4-H Teen Russian/American International Leadership Program (T.R.A.I.L.)
Teens are tomorrow's leaders, but have the potential for leading TODAY. Join us on a free journey to Russia! We'll be meeting teens from Russia who have the same concerns about the world as you. This program gives teens the chance to partner with each other to teach younger youth environmental stewardship practices that will affect both sides of the planet! This program is 100% virtual and runs from October 2021 – February 2022 for teens 16–19. Teens will receive a certificate upon completion and a T.R.A.I.L t-shirt. The first meeting is Sunday, October 3 at 1 p.m. EDT.
T.R.A.I.L. Registration Link »
Bridge to 4-H Teen Leadership Club
Bridge to 4-H is a monthly virtual 4-H club for youth in grades 6 and up, exploring leadership, healthy living, and life skills. Join us as we learn about how to make a menu of food we like while keeping a budget, adopting healthier habits, and caring for ourselves inside and out. Make friends across the state of NJ! We meet on the third Thursday of every month over Zoom.
Bridge to 4-H Teen Leadership Club Registration Link »
See the Virtual 4‑H STEP Clubs we offered in the past »