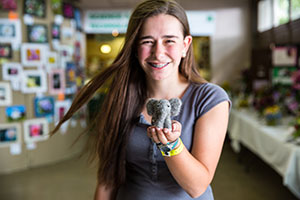 STEP Clubs are short-term exploratory programs focused on a topic (STEM, Healthy Living, etc.). STEP clubs meet multiple times over the course of several weeks. Club registration is limited and will be on a first come first serve basis. New clubs will continue to be added.
Data to the Rescue: Penguins Need Our Help!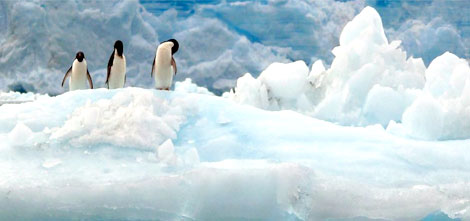 Join the team of research scientists who travel to Antarctica each year to collect data on penguins and their habitat. Youth will analyze real scientific data to figure out the answer and then use your creative skills to come up with a way to share this story with others. Join us this summer for a FREE interactive and fun 4-session virtual program! Sessions will run from August 9–12, from 10:30–12:00 each day. This program is designed for youth entering 6th–8th grade in Fall 2021.
Data to the Rescue: Penguins Need Our Help! registration link
Globetasters 6: Cooking with Color
Join us for Globe Tasters 4-H Cultural Cuisine S.T.E.P. Club—Session 7. You can cook right along with us or watch and make later. This program is for youth in grades 4–12. This session, Globetasters 7, Cooking with Color has an emphasis on Jersey Fresh Produce and buying locally. Sessions will run on Mondays, 4–5:30pm starting July 12–August 30.
Registration coming soon.
Understanding Food Allergies Workshop Series
Over the course of three, one-hour interactive workshops via Zoom, you will learn what food allergies are, why allergic reactions occur, and how they can keep friends with food allergies safe. Each week, you will have the opportunity to learn how to prepare (in the microwave), a quick, single-serve, allergen-free dessert. Open to youth (4th grade and up) and adults. Sessions will be held on Wednesdays, 6:30–7:30 PM starting on July 14 through July 28.
Understanding Food Allergies Workshop Series registration link
Understanding Food Allergies Workshop Series Flyer (PDF)
Junior International Explores Guam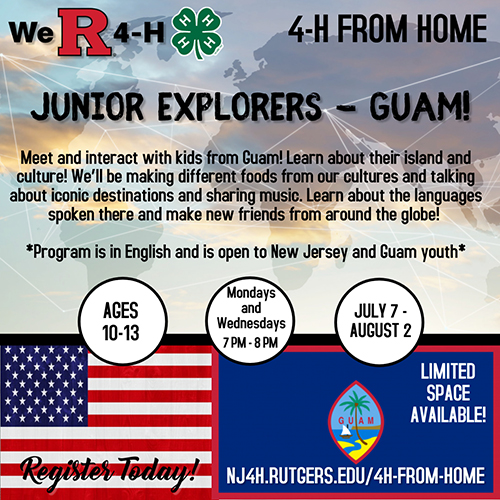 Hey kids! Do you know where Guam is? Did you know it is not a country, but a territory of the US? Would you like to meet kids from Guam and learn about their culture? Well then, this is the club for YOU! We'll be sharing what kids from NJ love to do while learning what Chamorro (people from Guam) kids love as well. This club is open to 15 American youth and 15 Chamorro youth and will be completely in English. We'll be making traditional dishes together (a list of ingredients needed will be provided after registration) and covering things like music and dancing, local legends and stories, and our countries' iconic destinations. Register here if you are up for an adventure to explore another culture and make new friends from around the globe! This program is for youth 10–13. Sessions will run on Monday and Wednesdays from 7pm–8 pm Starting July 7 through August 2.
Junior International Explores Virtual Club- Guam registration link
See the topics of past Virtual 4‑H STEP Clubs »