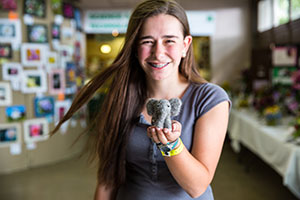 STEP Clubs are short-term exploratory programs focused on a topic (STEM, Healthy Living, etc.). STEP clubs meet multiple times over the course of several weeks. Club registration is limited and will be on a first come first serve basis. New clubs will continue to be added.
Globetasters 10: Rockin' Rices
Sessions run on Mondays beginning April 25th, May, and June.
For grades 4–12.
Short, medium, or long - RICE is a grain that's got it all! From around the world, let's cook a variety of rices as a staple for some delicious dishes.
Globetasters 10: Rockin' Rices registration »
NJ Pollinator Habitat Ambassadors
6:30–8 p.m. on four upcoming Thursdays: April 28, May 5, May 12, June 9.
Open to youth in grades 9–12.
New Jersey 4‑H is seeking teens like YOU to become Pollinator Habitat Ambassadors. Our goal is to help Teen Pollinator Habitat Ambassadors to educate more than 250 younger youth about the important of pollinators in our state over the next year. Receive training and teach others in your home community about the importance of pollinators.
More information about the 4‑H Pollinator Habitat Ambassador Program

NJ4H Pollinator Habitat Ambassadors Zoom Training registration »
See the Virtual 4‑H STEP Clubs we offered in the past »
For 4-H Staff