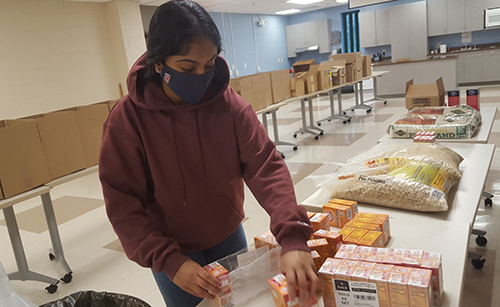 Dhruti Raghuraman, a long-time Mercer County 4-H club member and teen leader, developed, facilitated, and evaluated a 5-session short-term special interest science club for 4–7th graders in January of 2021. To learn how you can provide a similar club, please contact 4-H at 4hFromHome@njaes.rutgers.edu. Dhruti is available to share her program materials and more about her experience running the club. Here are her initial reactions.
I was really excited to create this Science from Home club. In the past, I have created summer robotics camps along with 4-H to introduce principles of robotics and programming. In speaking with Mr. Ripberger, I knew it was possible to bring an understanding of everyday science to middle schoolers. The goal of this club was to explore scientific concepts through experimentation and connect these principles to real-life science.
My favorite subjects in school have always been STEM related. Because of the ongoing pandemic and classes moving online, I knew a good way to connect with my community and share my interests in science would be to create this 4-H club.
I started working with Mr. Ripberger in early November. After researching various science experiments and middle school curricula, it was important to sequence the experiments so that the middle schoolers could easily understand each scientific concept.
Structuring the club to be online was another hill I had to climb. I chose experiments and scientific principles that could be easily taught through the computer, keeping in mind availability of materials and workspace at home. Mr. Ripberger and I packaged and delivered the materials (with information regarding what items were needed for each day) to each club member's house prior to the club's first day.
It was important to me to find experiments that highlighted science that is constantly at work in the world around us. For example, through a water filtration experiment, we were able to have in-depth conversations on climate change and pollution. Through these experiments, we covered the topics of temperature, physical separation, pollution, chemical reactions, acids and bases, solutions and mixtures, and osmosis!
Although the club only ran for five weeks, I wanted to create the program to be sustainable. Each club meeting's agenda was put on a Google slideshow. After each session, these slides were shared with the middle schoolers and Mr. Ripberger. By including all procedures and discussion questions on slides, this Science from Home club can be easily replicated going forward.
Through this club, I have learned a lot about creating understandable presentations and engaging with middle schoolers. After the first session, it became clear that when I was less formal and sharing my humor, more club members felt comfortable in participating, asking questions, or sharing the results of their experiment.
Each club meeting started with an ice breaker. These varied from two truths and a lie to an informational Kahoot. In order to ease into each session, I noticed that it was key to start the club with a light-hearted activity. The first day's ice breaker was to introduce everyone. I was honestly so nervous that I blanked out and couldn't pay attention to what they were saying. From there, my relationship with each club member developed, and I found myself getting so excited to hear their thoughts about that day's experiment and to get to know them more.
Perhaps the most rewarding part of this experience was looking at each club member's reflection of the science club. To collect feedback on the structure and content of the club, I asked all middle schoolers to complete a short form on the last day. I was so happy to find that over 90% of the members felt they know more now than they did at the start of the camp. In addition, over 70% wanted to sign up for a part-two of this club. What brought me the most joy, however, was reading their written comments of how much they enjoyed the club.
I am so thankful to 4-H and Mr. Ripberger for helping me make this club possible, and I am excited for this structure of a science club to be repeated by others going forward.