Shooting Sports
Youth development is the primary goal of the 4-H Shooting Sports Program.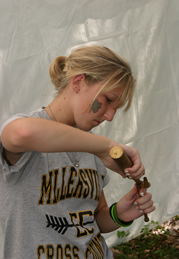 The program provides an outstanding way of providing human growth and development in the life skills identified by the National 4-H Program. We strive to teach safe and responsible use of firearms and archery equipment at home, on the shooting range, or in the field, including sound decision making, self discipline, and concentration.
The 4-H Youth Development Shooting Sports Program involves kids who have an interest in shooting sports and welcomes them into an accepting, caring group(who without appropriate intervention may be at risk for inappropriate use of firearms) and removes them from the profile above by taking their interest and turning it into an opportunity to help them develop into competent, caring and concerned citizens. The first thing they learn is safety. Next they learn discipline, followed by respect (respect for firearms as well as respect for people). They are not permitted to use the firearm until they prove they can handle those three prerequisites.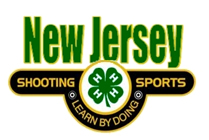 4-H Shooting Sports Club members learn what it means to be a good citizen, to help others, and to respect others. They develop the skills necessary for success in the workplace as well as interpersonal relationships (life skills). 4-H Adult Volunteer Leaders are positive role models and mentors for kids. They model and teach the kids character while they teach the kids the proper use of and respect for firearms and respect for other people. 4-H Shooting sports programs offer youth who have an interest in shooting sports and firearms to develop into competent, caring and concerned citizens!
Upcoming Events
State 4-H Shooting Sports Instructor Certification
September 26-28, 2014
New Jersey 4-H Shooting Sports Program is hosting a state workshop to certify or re-certify volunteer leaders as 4-H Shooting Sports Instructors. This workshop will feature training in: Archery, Shotgun, Muzzle Loader, Rifle and pistol. Disciplines may be canceled due to low enrollment. [more info...]
State 4-H Shooting Sports Muzzleloader Match
October 18, 2014
The purpose of the NJ State 4-H Qualifying Match is give 4-H shooting sports members across the state a chance to qualify to be a part of the New Jersey State Team which will compete on a National Level at the National 4-H Shooting Sports Invitational. Participants in this event are members in good standing in 8th - 13th grade by January 1 and have completed a postal match at the county level, qualifying them to participate in the state Match.
State 4-H Archery Match
October 25, 2014
The purpose of the NJ State 4-H Qualifying Match is give 4-H shooting sports members across the state a chance to qualify to be a part of the New Jersey State Team which will compete on a National Level at the National 4-H Shooting Sports Invitational. Participants in this event are members in good standing in 8th - 13th grade by January 1 and have completed a postal match at the county level, qualifying them to participate in the state Match. [more info...]
State 4-H Shooting Sports Shotgun Match
November 8, 2014
The purpose of the NJ State 4-H Qualifying Match is give 4-H shooting sports members across the state a chance to qualify to be a part of the New Jersey State Team which will compete on a National Level at the National 4-H Shooting Sports Invitational. Participants in this event are members in good standing in 8th - 13th grade by January 1 and have completed a postal match at the county level, qualifying them to participate in the state Match. [more info...]
Past Events
State 4-H Shooting Sports Junior Air Rifle Match
April 5, 2014
The NJ State Jr. Air Rifle match allows registered 4-H members in 4th – 8th grade in shooting sports who carry the air rifle discipline to test their shooting and sportsmanship skills. This event is solely an individual competition. [more info...]
Leader Training
April 25-27, 2014
New Jersey 4-H Shooting Sports Program is hosting a state workshop to certify or re-certify volunteer leaders as 4-H Shooting Sports Instructors. This workshop will feature training in Archery, Shotgun, Muzzle Loader, Rifle and Pistol. Disciplines may be canceled due to low enrollment. [more info...]
State 4-H Shooting Sports Awards Banquet and Auction
May 10, 2014
The State 4-H Shooting Sports Advisory Council is proud to sponsor the 10th Annual NJ 4-H Shooting Sports Award Banquet and Auction [more info...]
State 4-H Shooting Sports Senior Small Bore Match
September 20, 2014
The purpose of the NJ Qualifying Match is give participants across the state a chance to qualify to be a part of the New State Team which will compete on a National Level at the National 4-H Shooting Sports Invitational. This event is solely an Individual Competition. [more info...]
State 4-H Shooting Sports Air Rifle Match
September 21, 2014
The purpose of the NJ State 4-H Qualifying Match is give 4-H shooting sports members across the state a chance to qualify to be a part of the New Jersey State Team which will compete on a National Level at the National 4-H Shooting Sports Invitational. Participants in this event are members in good standing in 8th - 13th grade by January 1 and have completed a postal match at the county level, qualifying them to participate in the state Match. [more info...]