About Us
The National 4-H Shooting Sports Program and Curriculum was developed, drafted and tested by the National 4-H Shooting Sports Committee over a period of years and has been offered to states since the mid 1980's. The curriculum is scrutinized continually and revisions made as appropriate. Writers of the curriculum included National Rifle Association Instructors and training counselors, hunter education instructors, National Bow Hunter Education Instructors, National Archery Association instructors, National Muzzle loading Rifle Association Instructors, and Extension Specialists.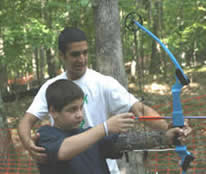 The program relies on National and State 4-H trained and certified instructors to conduct classes/programs in the various disciplines (Air Rifle, Air Pistol, Archery, Black Powder, Hunting; Wildlife, Rifle, Shotgun, and Program Coordinators) using the National 4-H Shooting Sports Curriculum.
Shooting Sports has the potential of being a high liability activity. Therefore, the program requires 4-H trained and certified instructors to adhere to the safety rules and regulations as dictated by the program to decrease the liability of such an educational experience.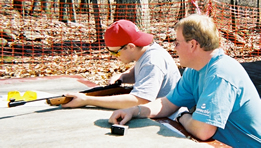 This program is designed to work with groups of children in a club setting. We do not offer individual lessons. Individual instructors may work with outside organizations (such as Boy Scouts or Girl Scouts) to help them to achieve merit badges in the shooting sports curriculum.