National 4-H Youth Summit on Photography Skills and Careers
The National Youth Summit on Photography Skills & Careers held annually in February/March is designed for both the experienced and casual photographer. The summit provides an opportunity for teens in grades 9-12 to gain knowledge while they explore emerging photography careers and related skills necessary for entry into tomorrow's workforce. They will hear from leaders in the field of photography about advancements in technology, emerging photo-techniques, and the role of social media and responsible posting. The summit will be filled with interactive learning opportunities including mini-tracks, career round tables, and hands-on photography experiences in the DC area.
The registration cost includes lodging at the National 4-H Conference Center, meals, educational programming, guest speakers, and tours including a visit to some of the memorials in Washington, DC. All-you-can-eat meals are served at the Clover Cafe at National 4-H Conference Center beginning with dinner on Thursday and ending with a box lunch on Sunday.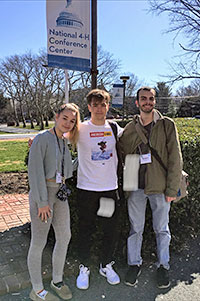 New Jersey 4-H Members Attend National Photography Youth Summit
Three 4-H members represented New Jersey for the National Photography Youth Summit held February 26-March 1 at the National 4-H Youth Conference Center located in Chevy Chase, Maryland. The purpose of the summit was provide youth with an opportunity to learn and develop photography knowledge and skills.
New Jersey delegates attending the summit included (left to right): Sierra Durham of Lake Hopatcong, Karsten Englander of Morristown and Benjamin Fernandez of Bridgewater.
The 4-H Youth Development Program is part of Rutgers, New Jersey Agricultural Experiment Station - Cooperative Extension. 4-H educational programs are offered to all youth, grades K-13(one year out of high school), on an age-appropriate basis, without regard to race, religion, color, national origin, ancestry, sex, sexual orientation, gender identity and expression, disability, atypical hereditary cellular or blood trait, marital status, domestic partnership status, military service, veteran status and any other category protected by law.