New Jersey's Partnership for Afterschool Science and Engineering presents…
Design It!
Afterschool Engineering Program Training
Now enrolling afterschool sites for the 2020–2021 school year.
Online enrollment due June 15, 2020.
Program training by Rutgers 4-H for your afterschool staff includes everything you need for a full-year of STEM programming at your site(s).
professional development (three full-day workshops)
curricula guides
materials kits
ongoing support
Training prepares your staff to lead a full-year program that includes six engineering projects. Each of the six projects lasts approximately one month, with youth meeting in their "Junior Engineer" club once a week. Selected Design It! projects for 2020–2021 include Balls and Tracks, Gliders, Paper Bridges, Rubber Band-Powered Cars, Straw Rockets, and Trebuchets. Youth work in teams to design their project, test it, and make adjustments; repeating the process as they try to optimize their design.
Balls and Tracks
Using flexible pipe insulation, marbles, and a few other simple materials, youth take on the challenges of creating small-scale models of amusement park rides and sporting events, such as the ski jump.
Gliders
Construct simple airplanes from paper. After testing designs for tails, bodies, and wings, construct a rubber band launcher. This allows for a more consistent way of evaluating all of the variables.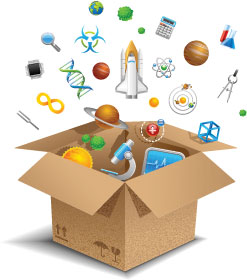 Paper Bridges
Make strong structures with limited materials. Youth perform more and more difficult challenges to uncover many simple principles of bridge building.
Rubber Band-Powered Cars
Using cardboard, dowels, plastic plates, and rubber bands, youth build their own cars and learn the engineering concept of optimization by testing different rubber bands and different diameter plates as wheels.
Straw Rockets
Launch the outer straw like a toy rocket by blowing. By using a sandwich bag propulsion system, youth test different kinds of fins while trying to refine their toy rockets so they will consistently hit their target.
Trebuchets
Start with a working design of an ancient throwing machine similar to catapults and slingshots. The challenge is to improve the design by testing and adjusting the different parts of this device.