Now enrolling afterschool sites for the 2016-2017 school year.
Online enrollment and payment due June 17, 2016.
Rutgers Cooperative Extension 4-H Youth Development and the New Jersey School-Age Care Coalition (NJSACC), The Network for New Jersey's Afterschool Communities, are proud to offer Design It!, an engaging, inquiry based, and fun STEM program designed specifically for afterschool. This comprehensive and high-quality program was developed by the Education Development Center, Inc. (EDC) in Boston and the National Partnerships for After School Science (NPASS) through support of the National Science Foundation.
Rutgers 4-H and NJSACC will provide the following to school and community based afterschool organizations who enroll by June 17.
materials kits
curricula guides
professional development
ongoing support
This is a full-year program that includes six engineering projects. Each of the six projects lasts approximately one month, with youth meeting in their "Junior Engineer" club once a week for the duration of the program. Selected Design It! projects for 2016-2017 include – Balls and Tracks, Gliders, Paper Bridges, Rubber Band-Powered Cars, Straw Rockets, and Trebuchets. Youth work in teams to design their project, test it, and make adjustments – repeating the process as they try to optimize their design.
Balls and Tracks
Using flexible pipe insulation, marbles, and a few other simple materials, youth take on the challenges of creating small-scale models of amusement park rides and sporting events, such as the ski jump.
Gliders
Construct simple airplanes from paper. After testing designs for tails, bodies, and wings, construct a rubber band launcher. This allows for a more consistent way of evaluating all of the variables.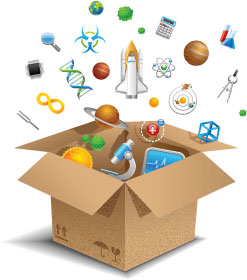 Paper Bridges
Make strong structures with limited materials. Youth perform more and more difficult challenges to uncover many simple principles of bridge building.
Rubber Band-Powered Cars
Using cardboard, dowels, plastic plates, and rubber bands, youth build their own cars and learn the engineering concept of optimization by testing different rubber bands and different diameter plates as wheels.
Straw Rockets
Launch the outer straw like a toy rocket by blowing. By using a sandwich bag propulsion system, youth test different kinds of fins while trying to refine their toy rockets so they will consistently hit their target.
Trebuchets
Start with a working design of an ancient throwing machine similar to catapults and slingshots. The challenge is to improve the design by testing and adjusting the different parts of this device.
Full Package (Six Project Pack)
$1,800 (October, 2016 – June, 2017) – Balls & Tracks, Paper Bridges, Gliders, Rubber Band-Powered Cars, Trebuchets, and Straw Rockets
A set of six materials kits (one kit for each of the six Design It! projects selected for 2016-2017 – providing enough materials for 20 youth to fully participate in each of the six projects). Complete materials kits aren't available from any other source and are being ordered and assembled in bulk as part of this project to reduce costs.
A set of curriculum guides (55-70 page guide for each of the six Design It! projects) for each of up to three staff from your organization in attendance at the full-day workshops.
Three full-day workshops for up to three staff from your afterschool program. Two of the Design It! projects will be introduced at each of the three trainings – October, January, and March. Locations will be determined and announced after enrollment, as we want the workshops to be centralized and convenient for the participating sites. Breakfast, lunch and snacks will be provided.
Ongoing technical support from Rutgers and NJSACC throughout program implementation (through June).
Optional Supplements to Full Package
$150 for each additional staff to attend the three full-day workshops and receive curriculum guides (three staff from your organization are included in the Full Package – this option is for sending additional staff beyond three).
$500 for each additional set of six materials kits (enough materials for 20 youth to fully participate in each of the six projects). This option is intended to support afterschool and youth organizations with multiple sites. An organization must purchase one Full Package to be able to add additional kits for additional sites at $500 each.


More Information
"This is one of the best PD workshops I've attended. Great hands-on activities, helpful tips, and skilled trainers who model the activities for us. And my students loved it!"
– New Jersey 21st Century Community Learning Center Director
Partnering Agencies