State Virtual 4-H Public Presentations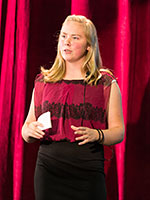 Any 4‑H member in grades 8-13 who receives a blue ribbon is invited to enter the State 4‑H Virtual Presentations event. This will also take place virtually. Presenters are encouraged to incorporate the judges feedback into their presentation and record it again for the state-level contest.
Due to the suspension of in-person events, 4‑H Public Presentations will be conducted virtually this year. All 4‑H members are welcome to participate. Please review the
Virtual Public Presentations Frequently Asked Questions (FAQs)

(495k PDF)
for more information about the process. Additional resources below will help you prepare your presentation.
Simply prepare your presentation as usual, practice (practice, practice) and then record your presentation. You don't need special video equipment—you can video your presentation using a smart phone. Recorded presentations should be uploaded to YouTube (as an unlisted file, see the directions in the
Virtual Public Presentations FAQs

(495k PDF)
). Presenters will submit their video link as part of their registration process. If you run into technology issues or if you have any questions, please let us know. We are happy to help!
Be sure to review the Virtual Public Presentations FAQs prior to recording your presentation.
Once you have uploaded your statewide presentation, you are ready to register
.
<!—Please note Middlesex County 4‑H, Gloucester County 4‑H and Sussex County 4‑H are utilizing a county-specific registration and presentation process. 4‑H members from those counties should reach out to their county staff for more information. State 4‑H Public Presentations are held in June of each year at the Cook/Douglass campus at Rutgers University. 4‑H members enrolled in grades 8-13 during the current 4‑H year and who receive a score of excellent on a county presentation are eligible to attend. The event provides an opportunity for 4‑H members to compete with their public presentations on the state level with 4‑H members from around New Jersey.—>
<!—Participants are assigned to rooms. Audience members will watch 4‑H'ers speak on a wide variety of topics. The judging is done by 4‑H Alumni, educators, and 4‑H volunteers. The judging is based on the Danish system of judging. Each participant will receive a ribbon and the top presentation in each room will receive an Outstanding Presenter Award.—>