NJ State 4-H Public Presentations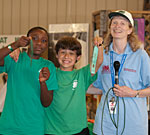 State 4‑H Public Presentations are held in June of each year at the Cook/Douglass campus at Rutgers University. 4‑H members enrolled in grades 8-13 during the current 4‑H year and who receive a score of excellent on a county presentation are eligible to attend. The event provides an opportunity for 4‑H members to compete with their public presentations on the state level with 4‑H members from around New Jersey.
Participants are assigned to rooms. Audience members will watch 4‑H'ers speak on a wide variety of topics. The judging is done by 4‑H Alumni, educators, and 4‑H volunteers. The judging is based on the Danish system of judging. Each participant will receive a ribbon and the top presentation in each room will receive an Outstanding Presenter Award.