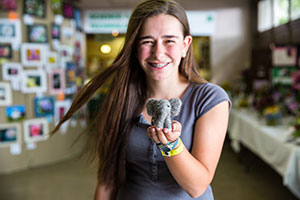 STEP Clubs are short-term exploratory programs focused on a topic (STEM, Healthy Living, etc.). STEP clubs meet multiple times over the course of several weeks. Club registration is limited and will be on a first come first serve basis. New clubs will continue to be added.
Data to the Rescue: Clues in the Corals
What can corals tell us about our environment? And how do scientists figure out what corals are telling us? Join a research team from Rutgers investigating deep water corals and inventing new tools – called proxies – to study them. You'll investigate coral anatomy, analyze real scientific data and get a behind-the-scenes glimpse of current Rutgers research.
Register soon for this interactive and fun 3-session virtual program! Sessions will run on Thursdays, from 4–5:15p.m. ET, starting on October 14 through October 28. This program is designed for youth currently in grades 5–8 and attendance is limited to 30 participants.
Information and Registration Link »
See the Virtual 4‑H STEP Clubs we offered in the past »